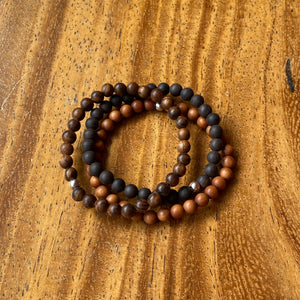 Wood Stack - NWB
Regular price $45.00 Sale
Sandalwood: This wood has many cultural uses over the years and is found in the sets in many of it's color variations. It is thought to be very healing and is associated with purification. This wood is associated with the root chakra and can be beneficial for grounding. Supporting the root chakra can be helpful for issues related to self-identity, security, stability & trust. Chakra: Root
There are different stack options sizes. Please contact me if you have any special sizing requirements. You can choose your size from the following:
XS: 6 1/4 inches
S/M: 6 1/2- 6 3/4 inches
M/L: 6 3/4 -7 inches
XL: 7- 7 1/2 inches
Note: XS to M most common sizes for women, M to XL for most men however please contact me for special sizing or clarification. 
All contain 3 different Sandalwood variations of colors as shown.