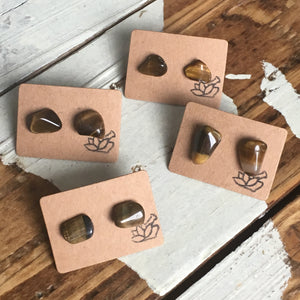 Tiger's Eye Earrings
Regular price $25.00 Sale
Tiger's Eye: Aids with harmony and balance. Helps with decision-making and to release fear and anxiety. Use this stone for hormonal & reproductive concerns.
Chakra: Solar Plexus
There are options with this stone. TINY size means a 4mm backing. These stones will be considerably smaller. REGULAR refers to most seen in the pictures. 
Sterling Silver backing & post. 
*All earrings are definitely one of a kind. I hand pick these beautiful stones to compliment each other within the pair. I do my best to update pictures and make them current, but you may find variations with the ones you receive and the picture online due to the one-of-a-kind nature of these. Just know they were hand picked and chosen for you!