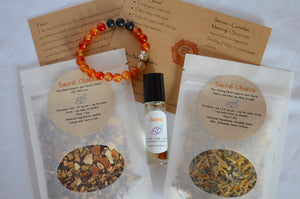 Sacral Chakra Box
Regular price $50.00 Sale
Includes 1 x 30g tea blend, 1 essential oil roll-on, and 1 chakra bracelet. 
Tea: rooibos, orange peel, licorice root.
Essential oil: wild orange & vanilla essential oils, fractionated coconut oil.
Chakra Bracelet - Carnelian
Carnelian Meaning: Supports reproductive organs and helps with fertility. Stimulates change, improves sexual & vital energy, creativity & desire. Helps to dispel sorrow, envy, and fear. Helps to overcome abuse of all kinds. A stone of power. 
Note: Picture shows Daytime & Nighttime blend HOWEVER as of Feb 2021 the blended teas comes as one blend for day/ night time use. You actually get more tea and the bag included is a 30g size!