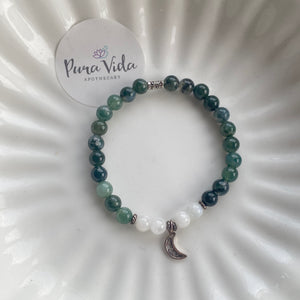 Moss Agate & Moonstone Charm Bracelet | Sterling Silver
Regular price $42.00 Sale
Moss Agate Meaning: This is a stone for new beginnings. It is good for attracting abundance in wealth & improves self-esteem. It is great for inspiration after periods of stagnation.
Chakra: Heart
Moonstone Meaning: Brings calm, peace, and balance. It brings a nourishing, sensual, deeply feminine energy. The stone of the mother moon, healing waters, and sacred feminine energies. Associated with fertility and the inner goddess. Chakra: 3rd Eye, Solar Plexus
This bracelet comes with one of the following charms: elephant, star, leaf, moon, lotus. Please specify when you order.