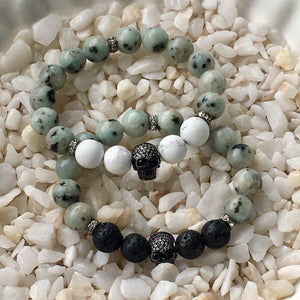 Lotus Jasper & Lava | Gunmetal Skull
Regular price $35.00 $40.00 Sale
Lotus Jasper Meaning: This is a great stone for soothing anger and tension. Helps to balance yin/yang energies to bring harmony & peace to the wearer. It can also help to bring peace endings to difficult situations, and relationships.  Great for healing grief. Chakra: Heart
Accent Stone:
Howlite stone, White or Black Lava (Howlite & Black Lava shown in picture).
Howlite Meaning: Allows the wearer to feel calm and centered as soon as it as worn. Helps to clear and activate the root chakra. This stone helps the wearer with a feeling of stability, and helps with connecting to the earth. If you feel particularly attracted to drama, this stone is for you. Chakra: Root
This bracelet comes in 3 different sizes. Small, Med, Large. Note: tiny bracelets do not come with, sold separately.