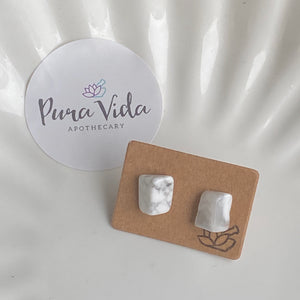 Howlite Earrings
Regular price $25.00 Sale
Howlite: Calming stone used to reduce stress. Use for insomnia or an overactive mind. Can be used to absorb your own anger, or anger and negative energies of those around you. Can help with processing of emotions to bring you peace.
Chakra: All
Sterling Silver backing & post. 
*All earrings are definitely one of a kind. I hand pick these beautiful stones to compliment each other within the pair. I do my best to update pictures and make them current, but you may find variations with the ones you receive and the picture online due to the one-of-a-kind nature of these. Just know they were hand picked and chosen for you!