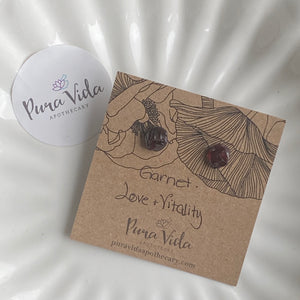 Garnet Earrings
Regular price $33.00 Sale
Garnet Meaning: This is a stone of strength and safety, prosperity & abundance. It helps with self-empowerment, and is also thought to detox and purify the body. It is also said to help with increasing metabolism and libido.
Chakra: Heart & Root
Sterling Silver backing & post. 
*All earrings are definitely one of a kind. I hand pick these beautiful stones to compliment each other within the pair. I do my best to update pictures and make them current, but you may find variations with the ones you receive and the picture online due to the one-of-a-kind nature of these. Just know they were hand picked and chosen for you!