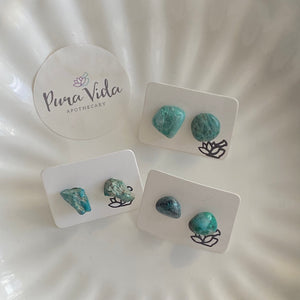 Chrysocolla Earrings
Regular price $27.00 Sale
Chyrsocolla: This is a stone of communication. This stone is deeply connected to the vibrations of Mother Earth & sea. It can help to support the feminine energies in men/ women. For healing and strengthening emotional bonds.
Chakra: Throat, Heart
Sterling Silver backing & post.
Current stone available are TUMBLED NOT RAW STONES
The ones I have on hand are a tumbled stone as opposed to the raw stones  
*All earrings are definitely one of a kind. I hand pick these beautiful stones to compliment each other within the pair. I do my best to update pictures and make them current, but you may find variations with the ones you receive and the picture online due to the one-of-a-kind nature of these. Just know they were hand picked and chosen for you!